Home
Next Level Map-Making
Worldographer is the easy to use world, kingdom, city, village, dungeon, & battlemat map software for Dungeons & Dragons (D&D) and other role-playing games (RPGs). Make maps from scratch in minutes or let the program auto-generate a map you can quickly customize. Go to our download page to try it out; get a license from our store.
True "Child" Maps
Create a map of your world, then have Worldographer generate continent and kingdom level maps based on the other map levels! Choose the ratio of hexes between map levels. So a lower level map can have any number of hexes across per hex in the parent map. Changes on one level can be reflected on the other levels. It works bottom-up as well.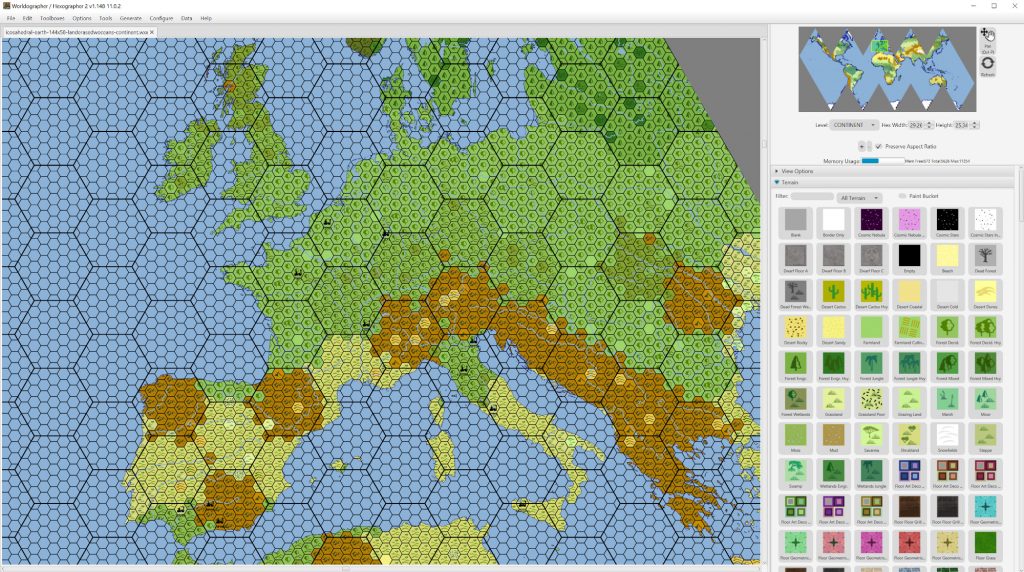 Multiple Map Styles
Use the Classic 0e RPG style symbols, 1e style line-art terrain, or the new more realistic style map terrain and symbols. And of course, add custom terrain and symbols too.
Generate Content & Track Notes
Because Worldographer is built for generating imaginative maps, it also helps you generate details about your world and kingdoms: Names of the kingdoms, rulers, cultures, and religions; Plus generate their locations on the map and cities and towns. Click a feature such as a city, ruins, castle, etc., and click a "Notes of Selected" button Worldographer will generate an outline of details about that location.
Create/Generate/Edit City & Village Maps
The same interface is used to generate a city or village map.  Select options in one dialog and a city or village is created before your eyes.  Or start with a blank map and hand place every road (lines), water area (polygons), city wall (features and lines) and building (more features). Or mix both approaches: start with a blank map and on the "generate" menu pick "generate coast" (if you want one) then adjust it if you wish; next go to "generate river" (if you want one) then adjust it; then choose "generate main roads" then adjust them if you wish.  Continue with this approach for a city wall, streets, buildings, and vegetation.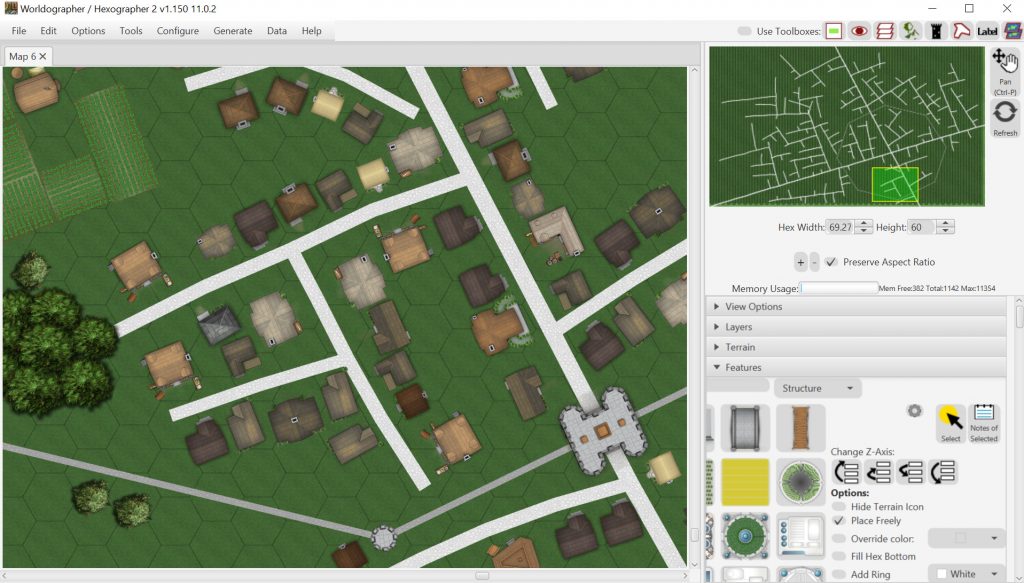 Create/Generate/Edit Battlemats
Use Worldographer to make Building Interiors, Dungeons, and Tactical Outdoor Areas.  One dialog lets you pick a blank battlemat, a random dungeon, or one of several auto-magically generated building types.  The floor tiles, shapes, and feature icons (doors, chairs, stairs, etc.) are fully editable.